How does it work?

1.

2.

3.

Search the HR Avatar test catalog by job title to find the test designed specifically for the job.

Click to send a "Start the Test" link to the candidate by email or text.

Review the test results. We'll notify you by text or email when it's ready.
What do you get?

The HR Avatar Test Results Report is stored in your account within a few minutes after the candidate completes the test.

The report includes summary, detail, interview guide, and notes sections.

Measured areas include:

Cognitive Ability
Knowledge and Skills
Personality Factors
Emotional Intelligence
Work History
Simulated Job Tasks

Plus, you'll get expert questions to help you probe specific competencies in a follow-up interview.
What does the candidate get?

| | |
| --- | --- |
| | More than 80% of our test-takers say our tests are engaging, realistic, and fun! |

Immersive Experience

Candidates are immersed in job-related scenarios to test their abilities, such as handling an irritated customer, or checking a medical form for accuracy.

Most tests take about 40 minutes to complete.
What do the tests measure?

Each HR Avatar test is designed for a specific job and is configured to measure the factors that contribute most to success on that job. The specific competencies and their relative importance are determined through research embodied in the US Government's Occupational Information Network dataset.

Many legacy tests provide only a part of the picture by focusing on a single dimension of a candidate, such as personality (job fit), intelligence or skills. Our tests avoid this weakness by measuring a full range of factors, including cognitive ability, personality factors, knowledge, skills, and past work behaviors.

HR Avatar's tests are animated, with both an animated host who guides the candidate through the process, and sections that simulate actual workplace situations. As a result, candidates enjoy the test more than text-based assessments and find it more like a real job.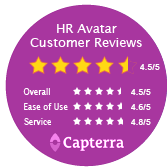 "Amazing Service and Spot-On Testing"
"The value received far exceeds the price"
"Truly takes out the guess work"
"Hiring managers can easily understand the reports"
Read customer reviews...